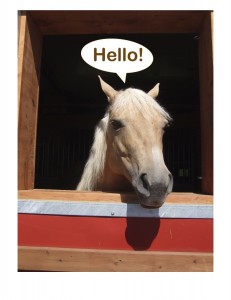 Phone Consultations
Consultations by phone are a simple, easy way to communicate with your horse. Using her natural telepathic skills, Su makes a connection with your horse and receives information in the form of images, thoughts, feelings, emotions and words. She then translates this information to you. Su can also convey any questions, thoughts or comments you may have to your horse. A two way conversation then takes place.
Telepathic communication is an energetic connection; therefore physical distance is not a factor in the quality of the connection with the horse. In fact, as Su's clients come from the right across North America, Asia and Europe, most of her consulatations are conducted over the phone.
What to expect during your consultation
Most horses are very comfortable and eager to communicate with us. They immediately express comments, suggestions, ask questions and convey their sense of humour. Others are a little wary and may need some coaxing.
During a consultation Su experiences the horse's viewpoint and perspective on things. This is an excellent opportunity for you to ask as many questions as you like. Horses sometimes only share things with us after being asked.
Most horses are very enthusiastic when we communicate together, for them it is an excellent opportunity to share thoughts, ideas and feelings about their well being, contentment and comfort. The horses often suggest ways to improve your abilities to relax, focus and make your ride as enjoyable as possible. Although unable to diagnose illness or disease, Su can get a sense of any pain or discomfort that your horse  may be experiencing.
A successful consultation is a group effort from everyone involved. Sometimes, horses focus on different things than us. Therefore, it is always beneficial to help Su by filling in any blanks. After all, you know your horse or pet, well and spend time with them on a regular basis. Su has just met them!
After a consultation, most people experience a much closer relationship with their horse. This creates a strong bond of caring and mutual understanding and appreciation for a more harmonious life together.
Booking a Consultation
A phone consultation with Su is easy to set up. Just contact Su, then together, you decide on a suitable time, Su lives in Nova Scotia, Canada, which is Atlantic Standard Time (AST). Click here to find out what time it is right now in Nova Scotia. Then you phone Su, she will provide her phone number once the consultation is confirmed. Su will time the reading.
Fees and Payment Options Su charges a $1.50 Canadian a minute and you can pay by email money transfer or by credit card.
Frequently Asked Questions
What do I need to prepare?  Su will ask you for any necessary information at the beginning of the consultation. It is always beneficial to prepare some questions, this saves time and ensures a satisfactory experience for you and your horse.
Do I need to send you pictures? No.
Do you talk to cats, dogs and Birds? Yes.
How long does a consultation usually last? This depends upon the amount of horses & animals you wish to talk too. How many questions you may have for them and how talkative they are. An average consultation usually is between 15 to 60 minutes.
Do I have to be in the stables or barn with my horse during the consultation? It is important that you are comfortable during the consultation, you can be anywhere you like. You can even be in another province, state or country! Telepathic communication is an energetic connection; therefore physical distance is not a factor in the quality of the connection with the horse.
Can you talk to horses who have died? Yes, this usually brings great comfort and relief to people who have experienced the death of their horse.